New Patients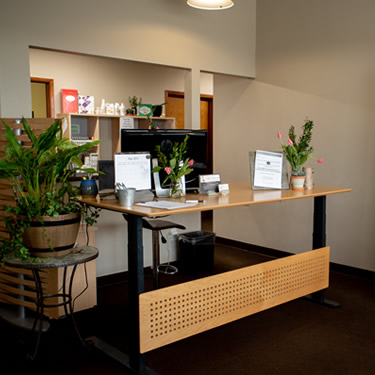 From your first phone call, you'll know that we're thorough in determining your needs. Our friendly, detail-oriented team members will ask you some questions to understand how best to help you. If you're calling to book a time for your child who may not be able to sit for very long, we can complete a history and consultation over the phone.
ONLINE FORMS »

Visit One
This appointment usually takes 45 minutes to an hour, depending on if you bring your paperwork in completed. You can find these forms on our website. Dr. Stacey will begin by doing a history and consultation as well as a comprehensive examination that includes
Range of motion testing
A muscle assessment
Foot Levelers balance assessment
Scans with Insight™ technology (surface electromyography, heart rate variability and temperature)
You'll then be scheduled back for a follow-up visit to discuss our findings.
Visit Two
On your next appointment, Dr. Stacey will thoroughly detail all of your results from the examination. You'll get our care instructions, and we'll discuss a plan appropriate for your needs. We'll also go through financial information and scheduling. If you choose to begin, your first adjustment is given on this day.
Personalized Plans for Greater Wellness
Care plans are customized to each individual, depending on their condition and the findings from the examination process. Some choose to see us because they want to function better, while others are experiencing problems they're seeking Dr. Stacey's help with. Life Family Chiropractic has plans that meet all of those needs.
We offer extended hours for your convenience. Contact us today to find out what we can do for you!
CONTACT US »
---
New Patients | (907) 373-4325