Pediatric Chiropractic in Wasilla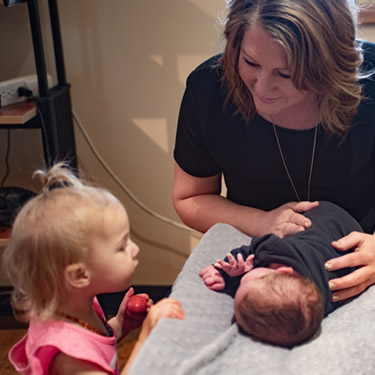 Newborns and Infants
Essential neuro-developmental changes occur in the first few years of life. How we support children during these years determines their expression of health and well-being. Dr. Stacey is trained to assess the primal reflexes of an infant and examine your babe's cranial bones and spine to help them have the best start in life! From breastfeeding to pooping to reaching developmental milestones…we have helped many babies and families thrive!
All the Children
Since children need a healthy nervous system to be able to grow and thrive, having their spines assessed regularly helps them stay aligned and connected through all of their crazy falls and developmental milestones. Dr. Stacey is trained in pediatric chiropractic care and knows how to assess if your child is functioning at their potential. Through a clear and balanced system, children can express their health optimally. Dr. Stacey also has years of experience helping children who are on the sensory spectrum and can help your child react to their environments appropriately.
Parents who have their babies and children checked regularly in our office have experienced improvements with:
Easier bowel movements
Less ear infections
Behavioral issues
Head shape
Torticollis
Better sleep
More connection
Reaching milestones
Less asthma
Diminished allergies
At Life Family Chiropractic, we are extensively trained on how to take care of the most precious thing in the world to you, your child. We are passionate about children getting the best start to life so they can express their natural born potential in health and in life. We also specialize in prenatal chiropractic care.
Our Affiliations
The International Chiropractic Pediatric Association offers advanced quality chiropractic education committed to providing the most up-to-date information and skills pertaining to the care of children and pregnant mothers. Dr. Stacey Lowe is an active member and provider for the ICPA.
CONTACT US »
---
Pediatric Chiropractor Wasilla AK | (907) 373-4325