Meet the Team
Stacey Finley – Front Desk/Office Manager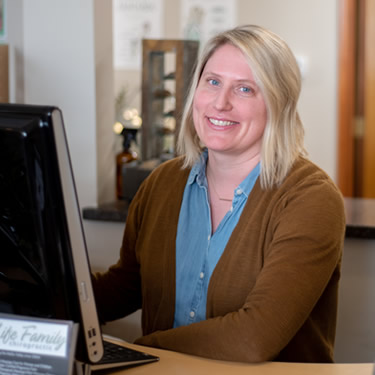 I was born and raised in Redding, CA and went to Simpson University where I received my BA in Liberal Studies. I moved to Wasilla in the fall of 2004 excited to start a new adventure in life.
After moving to Alaska, I decided I wanted to look at changing my job path. I had always worked in an educational setting with kids so I knew that I wanted to continue to do that but outside of a traditional classroom setting. I was introduced to Dr. Stacey through a mutual friend, and at the time she was looking to hire a front desk positon. After meeting Dr. Stacey, I soon learned that she too had a passion for working with kids.
Working at Life Family Chiropractic I witnessed, through the power of chiropractic adjustments, kids who once suffered from ear infections, colic, constipation, gait issues, food allergies were experiencing breakthroughs in their health. I also, after starting chiropractic care, saw a breakthrough in my own health. I had once suffered from frequent sinus headaches since high school and noticed they started going away after being under regular care.
I am proud to be a part of an office that makes it their mission to serve children and their families through a noninvasive healthy approach making it possible to function at ones' highest potential.
---
Life Family Chiropractic Team | (907) 373-4325